Visit of the Mosaïc Garden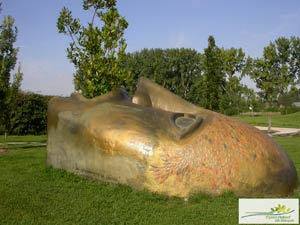 Source : ©Sandrine Rousselot - Espace Naturel Lille Métropole
In the heart of the Deûle Park, the « MOSAIC Garden », situated in Houplin-Ancoisne (10 km from Lille), accomodates on 33 hectares, nine contemporary gardens, one pond, forests, spaces created by the French and Belgian landscape gardeners Jacques SIMON, Jean-Noël CAPART and Yves HUBERT and imagined by about thirty French, Italian, Portuguese and English artists.
Inaugurated in 2004, MOSAÏC proposes a travel to discover the diversity of the residents of the metropolis of Lille. Each garden mixes botany, works of art and rare pets. On Sunday afternoon, MOSAÏC proposes musical and theatrical animations, sheds and guided tours.
At the receptiondesk, you can take free audio guide in French, English or Dutch.
Upload the brochure (Source : Espace Naturel Lille Métropole)