Bed and Breakfast near Lille
The Ferme de la Pouillerie is just 10 km from Lille, in a nice area surrounded with meadows, offering calm and peace to guests. Horses bring serenity to the place.
Renovated in 2001, it now offers 4 comfortable and spacious bed and breakfasts as well as a room for breakfasts, allowing guests to be alone, in couple or with family in a place that is favorable to relax. Opening since November, 2010 of a holiday cottage "Côté Jardin" for 1 or 2 persons quite equipped, ideal for the long stays (consult us). You can also use the closed car park, situated inside the property.
Many walking paths can be reached easily from the farm towards the « Mosaïc » garden, the « Deûle » park, the « Gîte » forest, etc… making the location ideal for sports, hikes, bicycle riding for « nature » tours.
Bed and Breakfasts in the countryside are a good way to relax just a few kilometers from the capital of northern France.
A little of history…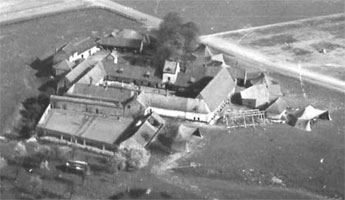 The Ferme de la Pouillerie, built in the XIIIth century, appears in the records in 1241 following a lawsuit that set the municipal magistrate of Seclin against the priest of Loos. The farm was, at that time, the property of the powerful abbey of Loos, created in the second half of the XIIth century.It turned out that the tax collector who was running part of the Seclin meadows on behalf of the abbey, was accused of letting many pigs cause a lot of damage in the meadows. The decision of the Flanders countess, Marguerite de Constantinople (1202 - 1280) limited the herd to 120 animals and compelled to keep them in a delimited zone.
The basements of this abbey seemed to have been used for religious purposes. The word
« Pouillerie » probably means that this place was used as an hospice (Pouillerie = extreme poverty).
In 1743, it was converted into a fortified farm, symbol of protection against the enemy.
During the first world war, the « Ferme de la Pouillerie » was used by german army. They established an airfield. Plane were hidden under tents in the contiguous fields.